class 10th english objective Questions bihar Board 2021 chapter 7 The Unity Of Indian Culture मैट्रिक परीक्षा 2021 का प्रश्न उत्तर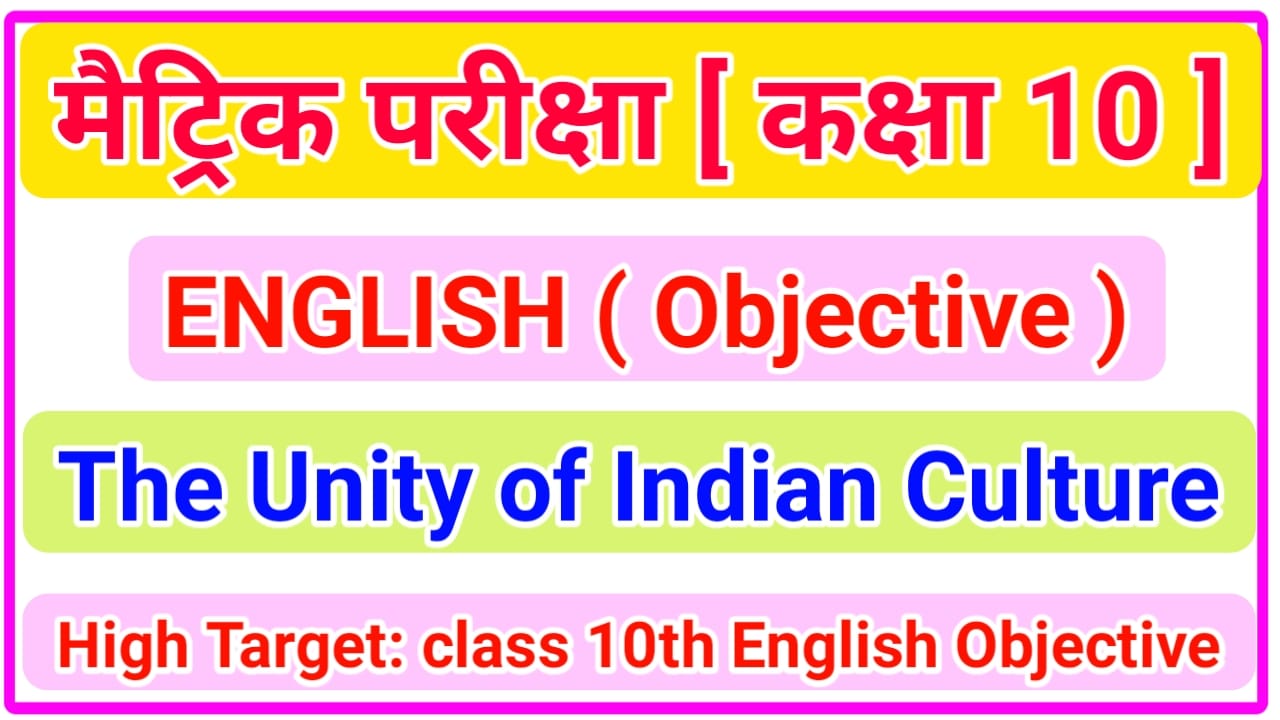 ---
1. In this lesson, the author gives us his views on Indian ….. and civilization.
(a) culture
(b) business
(c) fabrics
(d) technology
   Answer ⇒ A   
---
2. It is the feeling of belonging to one ……… that is so special about Indian culture.
(a) religion
(b) group
(c) region
(d) race
   Answer ⇒ B  
---
3. Indians have shown the power to make ……… changes and of becoming used to new situations.
(a) big
(b) little
(c) monstrous
(d) gigantic
   Answer ⇒ B   
---
4. Culture is always a complex ……… strands of varying importance and vitality.
(a) two
(b) three
(c) four
(d) many
   Answer ⇒ D   
---
5. In India, the difference betweert the masses and classes is not one of quality but of information and :
(a) opportunity
(b) food
(c) dress
(d) hair
   Answer ⇒ A  
---
6. Who is the author of "The Unity of Indian Culture"?
(a) Humanyan Kabir
(b) Sumitra Nandan Pandit
(c) Khushwant Singh
(d) Mahadevi Verma
   Answer ⇒ A   
---
7. Humayun Kabir was a famous ….
(a) Poet
(b) Novelist
(c) Political thinker
(d) All of these
   Answer ⇒ D   
---
8. During which of the following Prime Minister, Humayun Kabir was a central minister ?
(a) L.B. Shastri
(b) J.L. Nehru
(c) Indira Gandhi
(d) Morarji Desai
   Answer ⇒ B  
---
9. This article is an adapted version of the lecture delivered by Humayun Kabir in …..
(a) Delhi University
(b) JNU
(c) Baroda University
(d) Allahabad University
   Answer ⇒ C  
---
10. Who were regarded as the earliest invaders of India, till recently, according to the author :
(a) Aryans
(b) Greek
(c) Australians
(d) Turkish
   Answer ⇒ A  
---
11. According to modern research, the existence of ….. has been considered to be true :
(a) Post-Aryan invaders
(b) No Pre-Aryan invaders
(c) Pre-Aryan invaders
(d) None of these
   Answer ⇒ C   
---
12. Who were Sakes and Hunas ?
(a) Greek tribes
(b) Chinese tribes
(c) Invader on India
(d) None of these.
   Answer ⇒ C  
---
13. What is the meaning of 'absorbed '?
(a) take in
(b) take out
(c) take away
(d) None of these
   Answer ⇒ A   
---
14. Indian culture is …..
(a) Flexible
(b) Beautiful
(c) Blend of many cultures
(d) None of these
   Answer ⇒ C   
---
15. Which word stands for "following something as a result?
(a) Condemn
(b) Consequent
(c) Case
(d) Carlt
   Answer ⇒ B   
---
Class 10th English Objective Question