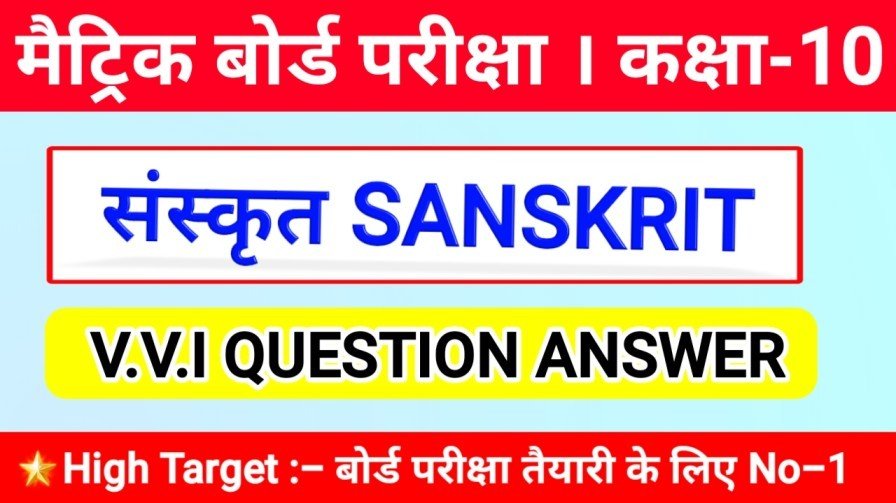 संस्कृत कक्षा 10 | Sanskrit Objective & Subjective Question Answer For Matric Exam 2021
sanskrit class 10th objective question 2021
संस्कृत मॉडल पेपर 2021 कक्षा 10 | कक्षा 10 का संस्कृत का पेपर 2021 | कक्षा दसवीं का संस्कृत का पेपर 2021 | संस्कृत मॉडल पेपर 2021 कक्षा 10 | 2021 का संस्कृत का पेपर BIHAR BOARD | BSEB Class 10th Sanskrit Objective & Subjective Question answer 2021 | संस्कृत मॉडल पेपर 2021 कक्षा 10, Sanskrit Objective
---
bihar board class 10th sanskrit notes
---
sanskrit class 10th objective 2021
Matric Exam 2021 Sanskrit Subjective Question Answer This is Very Important For Class 10th Board Exam 2021 | Bihar Board class 10th Sanskrit Model Paper 2021. This Model Paper Is Very Important For Matric Exam 2021.bihar board class 10 sanskrit question paper 2021. bihar board 10th question bank pdf
 संस्कृत कक्षा 10 SUBJECTIVE QUESTION 
? पाठ -1
मङ्गलम्
? पाठ -2
पाटलिपुत्रवैभवम
? पाठ -3
अलसकथा
? पाठ -4
संस्कृतसाहित्ये लेखिकाः
? पाठ – 5
भारतमहिमा
? पाठ -6
भारतीयसंस्काराः
? पाठ -7
नीतिश्लोकाः
? पाठ – 8
कर्मवीरकथा
? पाठ -9
स्वामी दयानन्दः
? पाठ -10
मन्दाकिनीवर्णनम्
? पाठ -11
व्याघ्रपथिककथा
? पाठ -12
कर्णस्य दानवीरता
? पाठ -13
विश्वशांति:
? पाठ -14
शास्त्रकाराः
---
class 10th sanskrit objective question 2021
bihar board 10th question paper 2021 pdf in hindi. bihar board previous year question paper 10th in hindi pdf. bihar board 10th math question paper 2021.
---
bihar board 10th objective answer 2021
Bihar Board 10th New Syllabus 2021 Board Exam. Matric Exam 2021 objective Question answer. All Subject objective Question For Bihar Board Matric Exam 2021 and You Can Also Download Model Paper Of Bihar Board official.
---
---
---